Hello design lovers!
Is it time to remodel your bathroom? This is a labor intensive room to renovate because it can be a tight space and there is electrical, plumbing, tile work, cabinetry, counter top, and more! We want to share some major steps to follow, and tips to keep in mind before you get started. As a full service interior design firm, we have helped many homeowners renovate their bathrooms. We have learned how to get the best results by following these steps and tips. We are going to use one of our recent bathroom renovation projects in Macungie, Pennsylvania as an example.
Start With a Plan
Create A Wish List
Make a list of all the things you do not like in your current bathroom. At our very first meeting, we walk thru our clients' bathroom and listen very carefully to all of the issues, and turn them into a wish list. The more information your contractor has, the better they can give you what you want.
Photo Inspiration
Find photos of bathrooms that have the look you want for your room. Pinterest, Houzz, magazines, and Instagram come to mind as great places to find pictures. We always ask clients for any inspirational photos and look at them carefully. Not only does it allow us get a good feel for what the homeowner likes, but we can start noticing similarities like cabinet color, tile looks, metal finishes, and luxury items, like large showers and soaking tubs.
Contractor Interview
Now that you have your wish list and photos in hand, meet with a few contractors. Key things to ask:

When would you start this project and how long will it be under construction?

Are you insured? Can I get a copy of your certificate?

Find out about their team they work with; will it be one team coming in, or different teams from different companies?

Who purchases the building material, and when do these materials need to be finalized by?

Have them take you through the process of how they will work.

Ask what the payment schedule would be like, and how they will update you with the project as things progress.
Create The New Layout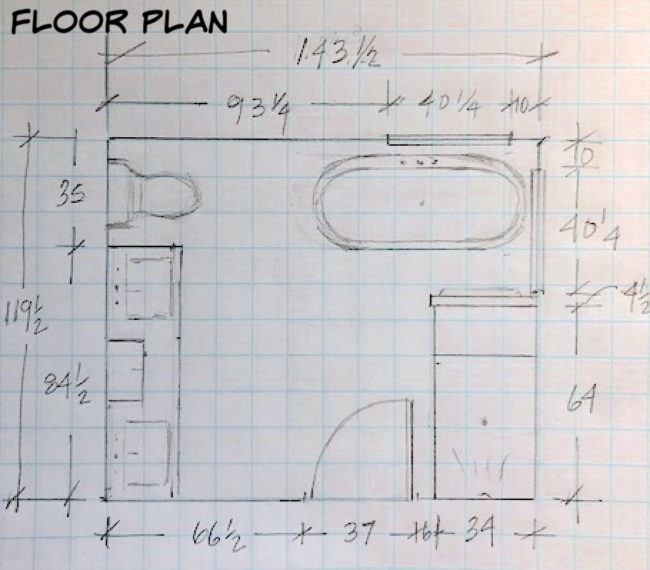 Once you have secured your contractor, you will work out the layout of your new bathroom with him/her. They will need to assist you in making sure you understand the specific dimensions of the vanity, shower, tub, and whatever else is in your plan. You want to make sure it will all fit well in the room, including details about the direction your door will hinge.
Ask For The Floor Plan
To help you visually understand how your bathroom will look at the end, ask your contractor for a floor plan. This floor plan will also be helpful when you are at the tile store, plumbing store, and cabinet store, choosing products. The salesperson can assist you better if they view the space it's going in.
Selecting Your Bathroom Materials
After the new layout is set, you will need to start working on building material selection such as tile, counter top, plumbing fixtures, lighting, cabinetry, toilet and tub.  As soon as you know when construction work will begin, you should be given deadlines of when all the building materials need to be picked out and ordered by. Custom items like cabinetry can take six to eight weeks to come in. You don't want anything to delay your remodel, so at least two to three months before your project begins, start finding all the pieces to create the bathroom of your dreams!
As interior designers, we select all of the building materials for our clients, and include visual designs, as seen above. When we present the plan to the client, we have samples of everything from paint color and building materials, to labor estimates at our fingertips. This makes it easy for the client to feel comfortable and excited to move forward. By having it all picked out and approved, we can order any custom cabinetry, tile, etc. with enough time to get it in before or as the construction starts.  This decreases any unnecessary delays during the remodel.
You Need To Find Your Own Materials
If you are not using an interior designer, ask your contractor where to go. They may suggest a few supply houses that they know are good, or a showroom that fits the bill. There are endless choices and a referred professional can help make decisions easier for you. We typically begin with the tile store, since you need so much of it.
Bring photos of bathroom styles you like. This can be extremely helpful in narrowing down choices right away. Also bring the floor plan so they can get a feel for the space. I suggest making an appointment ahead of time so someone is waiting for you and you will have plenty of time with him or her (especially if it is on a weekend).
Remember to discuss the details with each pro, like choosing a grout color that coordinates with your tile. Get that out of the way!
Borrow Samples – So Bring A Bag
Before you leave the tile store, borrow a sample of the tile(s) you have chosen and take it to the counter top store. Then take all of your samples to the cabinet store so you can easily pick your vanity finish and door style. Then take it all to your plumbing fixture store so you can decide on the metal finishes. And so on. Don't forget about the paint color! Yes, bring all of your samples to the paint store, and get a pro to help with wall and trim color; even wallpaper!
Bring an oversized over-the-shoulder bag to haul the samples in. Having all the samples in front of you will help you, and each retail professional, get a great picture of how it will all look together.
Do Not Purchase Anything Until You Meet With Your Contractor Again
Once you have your materials picked out, meet with your contractor again so he/she can make sure you are still on budget with what you chose. You may have been given an allowance for each material, so find out based on how much you need of one material, if the price is too high. You may need to reconsider your selection. This is also an opportunity for you to check with the contractor that the material you chose is something he/she feels comfortable working with, and get their feedback on the durability of it.
Your Beautiful New Bathroom
This is your opportunity to fine tune details like shower niches, a shower bench, and upgrades like heated flooring, frameless shower glass, extra shower sprays, and more luxury additions that will affect the budget and timeline.
Having the pieces worked out prior to construction starting keeps the project on schedule, because they are not waiting for material to come in, or waiting for an answer from you. Every time the work has to stop, there is a chance the contractor may need to come back after another job they scheduled, and now you end up with a delayed finished room. Also, making last minute decisions can make you feel rushed and unsure of what the remodel will look like. That's a lot of unneeded stress.
All that effort has now paid off!  We know how much preparation and work goes into creating a bathroom you will love for years.
Check out more of our Grandy project here.