IMAGINE THE POSSIBILITIES WITH THESE INTERIOR DESIGNER TIPS!
One design element in the home's entry way that is commonly overlooked, is the front door! Painting it can give a small foyer a big cheerful pop of color, and can make a large boring entrance, warm and inviting! The best part is, that painting your door is inexpensive and can be done quickly. Here are some good examples of how to use painted doors in different types of foyers!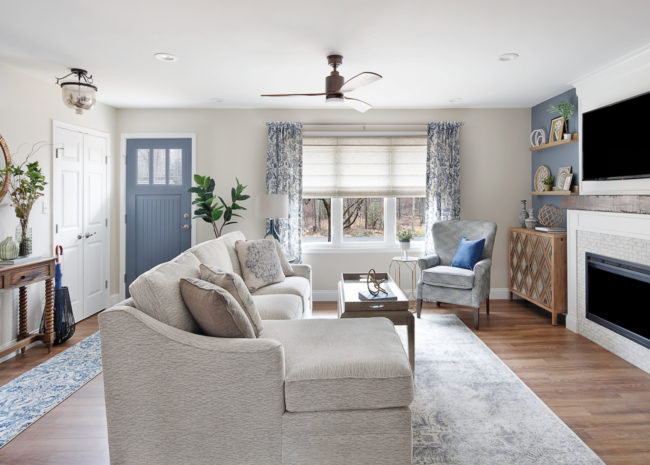 If you do not have a separate foyer, like the example here, painting the front door to coordinate with your room accent color, makes the door look like part of the room; instead of seeing an exit, it adds to the warm and inviting feeling. The color used for this door is Benjamin Moore's Smoke Gray.
For small entry ways, a light wall paint used with a bold door color, creates a striking focal point. Try a deep gray or muddy brown color for your entry door, to work with the wood tones of the foyer furniture. The color used for this door is Sherwin William's Elephant Ear.
If your entry area has a room that opens right into the foyer, paint your entry door the same color as the trim work used in that room to create a beautiful flow! The color used for this door is Benjamin Moore's Char Brown.
Two story foyers can feel cold without color, due to the height of the walls. An easy way to warm it up, is to paint your front door a fun color. The color used for this door is Benjamin Moore's Buxton Blue.
*Trend: Blue is quickly becoming the go-to front door color. Navy blues are rich and classic, and brighter cooler blues have a coastal and welcoming feel. Turquoise and aqua are fun and eclectic options! Have fun!
Check out more exciting projects from LYR here!